Therapeutic relationship in rehabilitation
We argue that building therapeutic relationships and optimising COnnection and COllaboration in REhabilitation is a CORE rehabilitation process and skill. However, conceptual understanding of the therapeutic relationship within this context has been limited. Rather, we have tended to rely heavily on theory and evidence from psychotherapy and other counselling professions to inform therapeutic relationship in rehabilitation.
This has the potential to miss aspects of therapeutic relationship which are unique and specific to the rehabilitation context. We have been undertaking a programme of work to address this gap .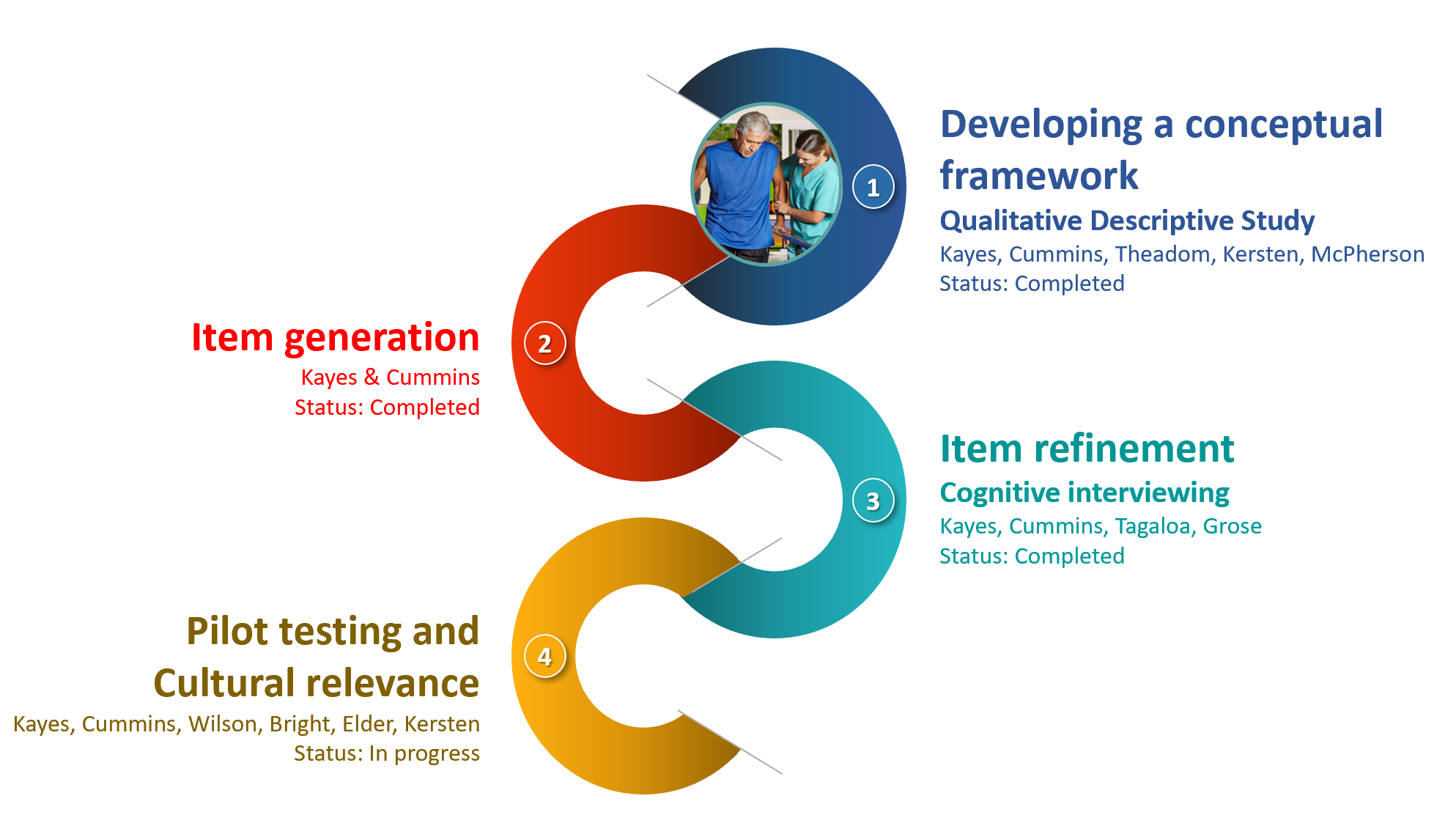 A conceptual framework for therapeutic relationship in rehabilitation
"I think you've got to trust that they know what they're doing, that they care about what they are doing, that they are going to do it to the best of their ability, that they've got your best interest at heart" (Person with Spinal Cord Injury )
We talked to patients and practitioners about what they think matters most to the therapeutic relationship in rehabilitation. The overarching concept that resonated through our findings was 'do the right thing by me'. Our four themes articulate the ways in which care could be experienced as 'right by me'.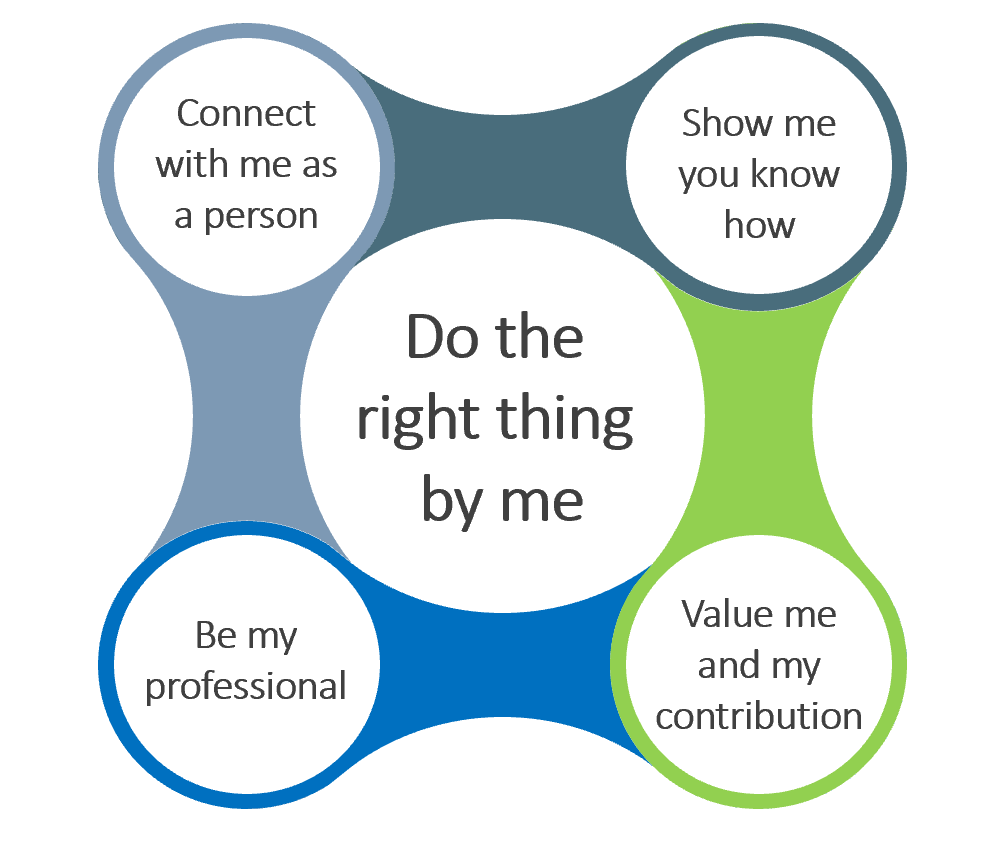 Our participants indicated that when all these things come together, that this created the context for hope and belief and self – where they were able to achieve more than they thought possible.
"You get the feeling you can do the things she teaches you, and she tends to make you believe in yourself a lot more than you normally would." (Person with Traumatic Brain Injury)
This conceptual framework has underpinned the development of a measure of therapeutic relationship which we are currently piloting.
We are also working with Māori whānau to ensure this measure adequately captures culturally-located understandings of therapeutic relationship.
"Aroha, wairua, manaakitanga, tiakitanga, āhurutanga […] that's why we say, what's good for Māori is good for all. Because our value systems actually are humanistic. They are not things that humans would generally be anti to. Who's going to be anti to love? Who's going to be anti to support? Who's going to be anti to nurturing? Because that is what our world view is generally about…but there's also, fundamentally… it's the wairua, the connection." (Māori provider)
A robust conceptual model and measurement tool specific to rehabilitation can:
Support research and knowledge advance
Inform training and education
Serve as a reflexive tool for practice
Allow us to capture meaningful patient experience data
We argue that developing therapeutic relationships is a CORE rehabilitation skill which should be prioritised in practice as a valued and legitimate way of working. More purposeful use of this 'human technology' has the potential to support engagement and optimise rehabilitation outcomes.
Further details
Publications
Bishop M, Kayes NM, McPherson KM (2019). Understanding the Therapeutic Alliance in Stroke Rehabilitation. Disability and Rehabilitation. doi: 10.1080/09638288.2019.1651909
https://www.tandfonline.com/doi/abs/10.1080/09638288.2019.1651909
Kayes NM, McPherson KM, Kersten P (2015). Therapeutic connection in neurorehabilitation: theory, evidence and practice. In Demaerschalk, B., Wingerchuk, D., Uitdehaag, B. (Eds.) Evidence-based Neurology: Management of Neurological Disorders: An evidence based approach, 2nd edition. BMJ Books, John Wiley and Sons.
Kayes NM. & McPherson. (2012). Human technologies in rehabilitation: 'Who' and 'How' we are with our clients. Disability & Rehabilitation, 34(22):1907-11.
https://www.tandfonline.com/doi/abs/10.3109/09638288.2012.670044
Besley, J., Kayes NM, & McPherson, K. M. (2011). Assessing the measurement properties of two commonly used measures of therapeutic relationship in physiotherapy. New Zealand Journal of Physiotherapy, 39(2), 75-80.
Besley, J., Kayes NM, & McPherson, K. M. (2011). Assessing therapeutic relationships in physiotherapy: Literature review. New Zealand Journal of Physiotherapy, 39(2), 81-91.
Posters
Project details
Funders:
Brain Research New Zealand (Brain CoRE) Rangahau Roro Aotearoa; AUT Strategic Research Initiative Fund; Health Research Council NZ
Principal investigator:
Prof Nicola Kayes
Research team:
Christine Cummins, Bobbie-Jo Wilson, Prof Hinemoa Elder, Prof Paula Kersten, Dr Felicity Bright, Alice Theadom, Kathryn McPherson
Contact:
Nicola Kayes
Timeline:
2014-2020
Status:
Ongoing