Living Well with a Long-Term Condition study
The consequences of long term health conditions result in personal, family and societal burdens, that can be reduced with good quality care and support. People living with longterm conditions consider all these aspects to be part of good healthcare.
Healthcare providers agree that these three things are vital components of healthcare and that they lead to better outcomes. Despite that, we don't consistently see these as part of health services.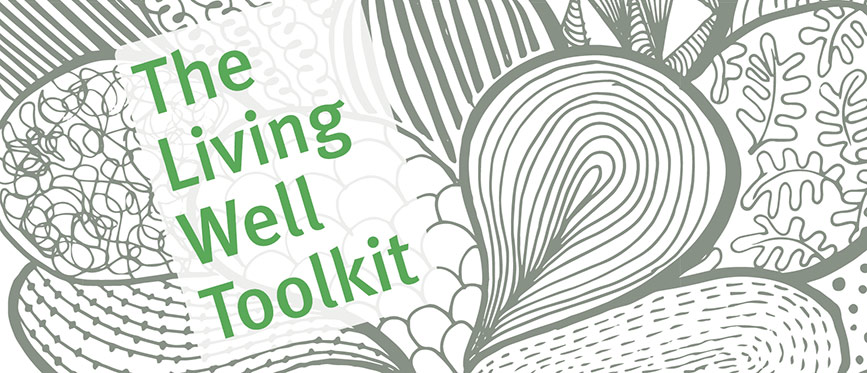 The Living Well Toolkit
To address this problem, we aimed to design and implement a toolkit with consumer guidance. We held focus groups and interviews with people with long term neurological conditions, family members and clinicians to determine how to operationalise these three key processes in the healthcare pathway.
Toolkit package
Five themes were common to rethinking the three processes (ADAPT):
A

ssume nothing

D

iscuss

A

cknowledge Expertise

P

romote Partnering

T

ailor Care
In collaboration with designers from the Design for Health and Wellbeing Lab, these five principles were incorporated into a paper based client toolkit with three sections. The client toolkit is intended to be kept by the person living with a health condition and used in healthcare interactions as desired.
Alongside the toolkit we also developed an electronic layered clinicians' resource that provides more detail of ADAPT and the underlying data. The clinicians' resource provides a structural support for clinicians to underpin a way of working that is consistent with the toolkit and the three core processes. A central orienting question, 'Who is this person and what do they need from me today' along with the ADAPT acronym was also produced as a bookmark.
Free copy of the toolkit
You can download the toolkit below, or if you prefer a hard copy of the toolkit, email us and we will post one to you.
We also welcome your comments, suggestions, and your experience with using the toolkit. Email us: pcrrt@aut.ac.nz
Download free copy of the Living Well Toolkit
Watch: videos for healthcare users and providers
Further details
Associated websites
Publications
Mudge S, Sezier A, Payne D, Smith G, Kayes N. (2020). Pilot trial of The Living Well Toolkit: qualitative analysis and implications for refinement and future implementation. BMC Health Services Research 20 DOI: 10.1186/s12913-020-4920-5
Sezier A, Mudge S, Kayes N, et al. Development of a toolkit to enhance care processes for people with a long-term neurological condition: a qualitative descriptive study BMJ Open 2018;8:e022038. http://doi.org/10.1136/bmjopen-2018-022038
Conference abstracts
New Zealand Rehabilitation Conference 2015: Living well with a long-term neurological condition: essentials for continuum of care
Sezier A, Mudge S, Kayes NM, Meier-Williams B, Kersten P, Payne D, McPherson KM
Centre for Person Centred Research, Auckland University of Technology, Auckland, New Zealand
APAC forum 2016
Developing a Living Well Toolkit for people with long-term neurological conditions
Suzie Mudge, Nicola Kaye, Ann Sezier, Barbara Meier-Williams, Greta Smith, Deborah Payne, Matire Harwood, Eden Potter, Kathryn McPherso4 and the Living Well Toolkit steering group
Posters and newsletters
Project details
Funder:
Health Research Council of NZ
Principal investigator:
Dr Suzie Mudge
Research team
Prof Nicola Kayes; A/Prof Deborah Payne; Prof Kathryn McPherson; Prof Paula Kersten; Prof Mark Weatherall; Dr Matire Harwood; Dr Wayne Miles; Dr Bruce Kent (Katalytic Ltd); Dr Laura Wilkinson-Meyers; Dr Debbie Snell; Dr. Peter Gow; Greta Smith; Ann Sezier
Contact:
Suzie Mudge
Key Collaborators:
Design team (Eden Potter, Lauren Stewart, Byron Thornhill), Design for Health and Wellbeing Lab, Communications team (Shivani Karan), Lane25 Ltd
Timeline:
October 2013 – December 2018
Status:
Completed