Support for gaining paid work
This project is a systematic review of the literature on supporting people with a health condition and/or disability to gain and sustain employment that is designed to be relevant across a diverse range of conditions and conducted in a way that is sensitive to factors that will affect implementation in the local context.
Support for gaining employment for people with long-term conditions: A systematic review
People who experience health conditions and/or disability often also have difficulty accessing employment due to a number of complex factors. These factors are very often associated with broader societal issues. They include stigma, poorly-informed judgements about what makes somebody 'work-able', fear of negatively affecting health and safety in the workplace and/or making the workplace vulnerable to higher costs, and challenges in negotiating work arrangements that are outside the norm when needed.
Various approaches to case management, vocational rehabilitation and employment support to help improve people's engagement with employment exist, and many have been tested in research. It is important to get an overview of this existing research , however, it is also important that any implementation is based on the most up-to-date information available, and that complex contextual factors that might affect application to particular populations and to the specific local context are taken into account.
This study was designed as a three-phrase review which will included involvement of four stakeholder reference groups at critical stages. A summary of findings can be downloaded below, and a link to a Work Counts webinar with Dr Jo Fadyl and Associate Professor Dr Matire Harwood sharing some of the findings of this work can be found can be found here.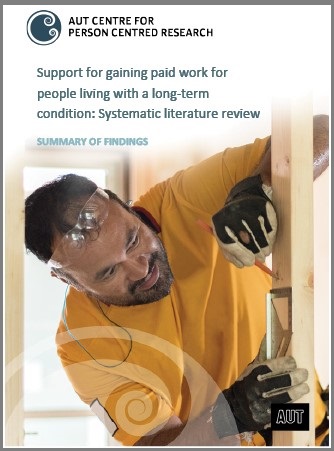 Further details
Publications
Fadyl JK, Anstiss D, Reed K, et al. (2020a) Effectiveness of vocational interventions for gaining paid work for people living with mild to moderate mental health conditions: systematic review and meta-analysis. BMJ Open 10: e039699.
Fadyl JK, Anstiss D, Reed K, et al. (2020b) Living with a long-term health condition and seeking paid work: qualitative systematic review and thematic synthesis. Disability And Rehabilitation: Early online. 1-11.